October 1st, 2011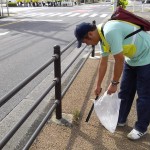 We participated "Citizen's activity day for prevention of garbage distention" on October 1st. As one of "Komaki environmental ISO network companies", we cleaned around Komaki civic hall together with komaki citizens and other member of organizations. We enjoyed cleaning under sunny days.
September 11th, 2011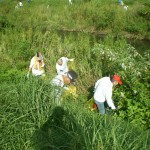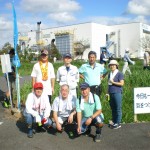 We participated Oyama river cleanup activities with 8 employees including managing director. Leaning from last year which was hit by heat wave, this year was held a week earlier than regular cleanup date. However, the day was very hot as we expected. Thank you for all participants of this event for your hard work. Since this event was 8th times of clean up event and influences of Typhoon, it seemed less garbage we found around the river comparing last year. We would like to continue participating global environmental conservation and social activities such as social community cleanup activities.
May 25th 2011
On May 25th from 13:30, "Komaki Environmental ISO Network Meeting" was held at Komaki city hall. Influence of Tohoku earthquake and operation stop of Hamaoka nuclear plant, saving energy activities will be undertaken everywhere in Japan. Komaki city is not an exception and Komaki city set up saving energy department. Our company also does saving energy activities such as peak cut of contract electricity and in-house research of unnecessary energy consumption. Through those activities, we hope consequences of energy cut among employee makes higher. With an introduction from one of participant, explanation about LED light was held by lighting company. Even though it might needs to earn cost benefit. We will take a consideration to use LED light when we need to install new lighting.
April 16th, 2011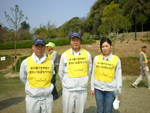 On April 16th 2011, we participated Komaki Mountain cleanup activity with three employees.
The week weather forecast showed rain on the date of the activity and we were worried to be wet and cancel the event. However, weather turned fine and we cleaned Komaki Mountain cooperating with other Komaki citizens like last year. Because of rain after bloom, road was filled by petal of cherry blossom. The scene seems like snow scene and it was very beautiful, but all garbage was covered by petal and it became harder to find them. Every year we think that Komaki Mountain is conserved always clean. Three of us made our own goal like "collect more garbage than last year" and we tried collect more garbage entering hidden place pushing glass aside