November 5th, 2010  komaki ISO Network
We are a member of "Komaki Environmental ISO Network" which provides a opportunities to exchange information about ISO14001 and strength coordination between companies.
October 12th, 2010 Komaki Enviromental ISO Network
On May 14th, the Komaki environmental ISO network meeting was held at Komaki prefecture. The topic was ISO network activities, information about ISO14001 and prevention measurement for Komaki city's global warming. Several companies showed their interests to photovoltaic power generation.
October 2nd,2010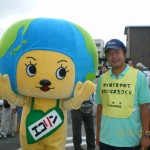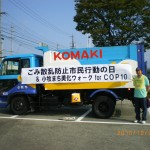 We participated "Citizen's activity day for prevention of garbage distention & Komaki city cleanup walking for COP10" on October 2nd. This October will hold the largest international meeting"COP10 (Conference of the Parties to the Convention on Biological Diversity, 10th)" in Nagoya, Aichi. To welcome visitors from other countries with beautiful and clean environment, Komaki city and Komaki city community development council set the cleaning campaign (September 1st to October 31st) and this event was held as one of the activity of the campaign.
September 5th, 2010
On September 5th 2010, we participated in the event with 10 members including senior managing director. This year was extremely hot compare to other year. Thank you for the participation and cooperation for all who participated the event. We hope increase the number of participant and improve the recognition of the event.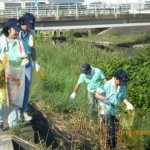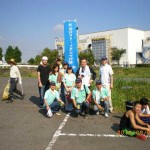 April 17th,2010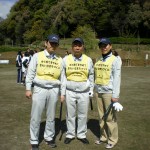 On April 17th,2010, We participated "Komaki Mountain Clean Up Day" with three employee. Getting together with many junior, elementary school students and people who participated with their family, we cleaned the mountain from an entrance to the top of the mountain for an hour. Normally Komaki mountain clean, but we could see small garbage if we look careful. We found can lid, rubber band and dog excrements on the glass. We would like to continue participating this event to maintain Komaki Mountain clean.